How to Cope with 500K Additional Cars in the 2nd hand Market?
Many businesses are struggling in light of the current COVID-19 pandemic amid lockdowns in countries all around the world. With more people staying at home and far fewer people traveling than in years past, travel-related businesses have been among the hardest hit. Even large corporations, like airlines, have found themselves in financial trouble. 
Another industry that has been affected is car rental companies. Even car rental giant Hertz was forced to file for bankruptcy. Soon after, Advantage Rent A Car filed for bankruptcy as well. To pay back its unsecured lenders, Hertz will likely have to liquidate all or most of its fleet of 400,000-500,000 vehicles. Other car rental companies may have to follow suit. Experts say that a significant portion of the 1.5 million rental cars in the United States will need to be sold for these companies to remain afloat.
Many people expect these cars to hit the secondhand market very soon. This massive influx of cars will need to be assessed and inspected to determine their value and identify anything that may need to be fixed or replaced. In addition, the demand may be very high, given that new car production has halted in the United States due to the COVID crisis. These "new" used cars will need to be processed and inspected quickly so they can be made available by dealers as soon as possible. That's where UVeye comes in.
UVeye Offers Modern, Efficient Inspection Solutions Powered by a Deep Learning Artificial Intelligence Platform
Used car dealers have a bad reputation among many consumers. According to a 2016 Harris Poll survey, 61 percent of Americans feel taken advantage of at car dealerships. Most people are not sure if they can trust what the dealer tells them about the car. Now, dealers can increase trust and transparency by using UVeye's inspection solutions. Meanwhile, customers can be sure that they are receiving the most accurate information because of UVeye's objective analysis. Dealers will appear open and trustworthy by using a third-party platform to analyze their vehicles and offering that data to customers.
Even for those who have a trusted car dealer that they recommend to all their friends and family, there is always a possibility of human error. The dealer could miss one small detail that could cause major issues in the future. Most people don't have the expertise to double-check the dealer's analysis to make sure they didn't overlook anything. If the dealer leaves the analysis to UVeye, both the dealer and the customer can be much more confident that the analysis is thorough and accurate. 
For example, inspecting the undercarriage of a vehicle can be very difficult for a human inspector. However, using Helios, a dealer can simply drive the car over the scanner, and it will pick up on anything unusual and notify the dealer.
UVeye offers three products
Helios scans the undercarriage of any vehicle that drives over it at up to 30 kilometers per hour (about 18.6 miles per hour) and identifies any irregularities. This is very useful for security purposes, but it can also be very useful for used car dealers or repair shop
Atlas provides a 360-degree scan of a vehicle and picks up on any dents, scratches, color bumps, gaps, and flushes. This is useful for both car dealers and repair shops.
Artemis scans and inspects tires to help determine their condition and whether they may need to be replaced soon. 
These three products analyze a variety of high-quality images and pinpoint any issues or irregularities. This is a game changer in the used car marketplace for a few reasons
Even though people are staying at home more during this crisis, people still need vehicles for transportation to work, to the grocery store, or for other everyday necessities. With many people afraid to use public transportation because of the pandemic, people who would ordinarily take a bus or train are choosing to drive. However, they may be forced to use vehicles with mechanical issues because they feel they have no other choice.

To make matters worse, many people are also reluctant to take their car to a shop for inspection and repairs during the COVID-19 crisis. Some may be trying to put it off until things get back to normal, while some are struggling due to loss of employment and can't afford repairs and maintenance at the moment. In addition, some repair shops are closed due to the pandemic, preventing some people from getting repairs or maintenance, even if they would like to. All of this means that there are likely to be more unsafe vehicles on the road, which is not good for anyone. People who are now forced to constantly worry about a pandemic should not also have to worry about their car breaking down or getting into an accident because they are unable to visit a shop. Additionally, the shops themselves are losing business due to would-be customers' fears of contracting coronavirus.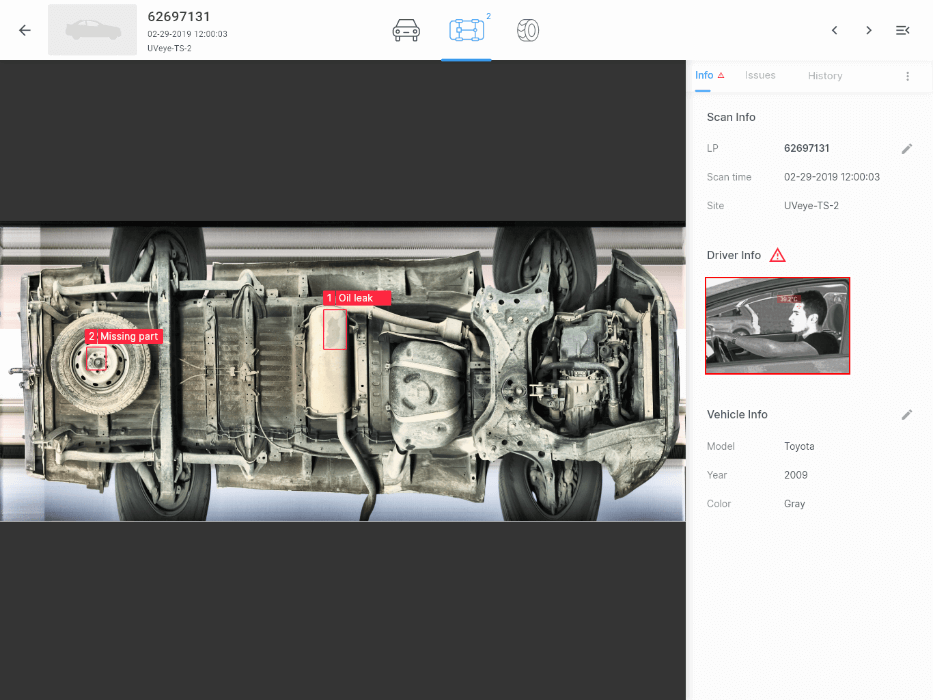 UVeye offers the perfect solution to these problems. Repair shops that offer UVeye products for inspections can provide contact-free examinations of vehicles using Helios and Atlas. At-risk customers can feel safe when visiting the shop for needed repairs or maintenance. Customers can simply drive over or past the scanner, and the platform will identify any issues. Meanwhile, tire shops can offer Artemis to customers for contactless tire inspections. This will keep us all safer and help repair and tire shops remain profitable during these difficult times.
Innovative Solutions for Unprecedented Times
Most of us have never experienced anything like the COVID-19 crisis in our lives. These are unprecedented times, and that calls for creative, modern solutions. UVeye is ready to take on that responsibility with its three revolutionary products: Helios, Atlas, and Artemis.

Dealerships and automotive shops can benefit greatly from utilizing these products to help adapt to the new normal. Their customers will also have peace of mind, knowing that they are getting the most reliable information and that they will be safe while doing so.