Enhancing Customer Experience at Audi New Rochelle
In 2020, Audi New Rochelle moved locations to a 65,000-square-foot facility formerly occupied by a supermarket franchise. At first, the facility's footprint seems excessive, but taking into consideration Audi New Rochelle service center intakes over 3,100 vehicles a month, the space is well warranted. The constant flow of customers throughout the day also necessitated Audi New Rochelle to hire a third-party valet company to assist with customer intake.
As one of UVeye's most high-profile customers, Audi New Rochelle utilizes the Artemis tire scanner and Helios underbody scanner in two separate service lanes. There are plans to add two additional lanes in the near future to assist with the 130+ vehicles coming through the service bay doors each day.
"UVeye technology is very different than anything else out there and once I saw it in action I knew it would be a very successful endeavor for us."
Audi New Rochelle
John Kauffman, Dealer Principal
Making a Difference On The Road
Detecting defects and damage on vehicles as they come in for a scheduled inspection or otherwise is more than simple maintenance and service. Ultimately, it's about keeping the customers' vehicles in a safe, road-worthy condition. If a fluid leak or a damaged or overly worn tire is discovered early, it means there's one less possible breakdown or blowout.
Building Rapport Through Education and Trust
Customers depend on their dealers to help keep their vehicles in working order. However, it's natural for them to be skeptical when a service advisor presents them with any maintenance issues without easy-to-understand evidence. Therefore, if a service advisor is able to quickly and easily educate a customer about the maintenance requirements by showing them exactly what's wrong, transparency can have a knock-on effect. Trust is built by educating the customer and demonstrating honesty through genuine care.
The UVeye operations team installed Helios and Artemis in one of Audi New Rochelle's service lanes. Installation was completed in 2021 over the course of 2-3 days with on-site training completed the following week.
A high-resolution scanner that analyzes the full length of a vehicle's underside, capable of detecting fluid leaks, rust, and damaged or missing components.
The first tire scanner in the world capable of analyzing manufacturer specs and detecting sidewall damage, tire age, tread depth, and alignment issues.
The speed of the UVeye vehicle scanners and subsequent reports increase productivity for the service department, but it also increases the accuracy of daily inspections. As a direct result of the increase in accuracy of each inspection, increasing the likelihood of finding a fault or defect.
"Since implementing UVeye, we've definitely noticed a significant growth in sales of new tires and wheel repair. As soon as a customer comes into the service lane, we can see the overall condition of their vehicle and spot any wear and tear, damage, or alignment issues that need immediate attention."

"Immediately upon receiving the scan, I can show this to the customer and prepare them for a repair if they have a nail in the tire or rim is damaged.""
Audi New Rochelle
Samantha Diaz, Service Consultant
With Audi New Rochelle's high volume throughout the day, the third-party valet company is constantly on the move dealing with the vehicle intake. Customers drop off their car and receive a loan vehicle and don't always get to speak directly with a service representative. The UVeye scans and vehicle condition reports can be assessed by service and sales at a later time and then discussed with the customer when they return.
As a result, scans can detect issues on vehicles coming in for regular service that didn't require a lift and a more thorough inspection. Without UVeye, potentially hazardous damage would go unnoticed and the vehicles would return to the customer in an unsafe condition.
As the only point of physical contact between a vehicle and the road surface, tires play a crucial role in safety and vehicle performance. The condition, integrity, and factory specifications of the tire must all be maintained in order for the tire to function properly and as intended. Proper tire maintenance, on the other hand, isn't as widespread as it should be and the average consumer is relatively uneducated on the subject.
"Now we have more consistent communication with our customers. Before we utilized UVeye, we used systems that simply read tread depth and wear. UVeye does so much more than that; measuring manufacturer codes, analyzing damage and recognizing potential hazards like nails, and detecting alignment issues. The possibilities are endless."
Audi New Rochelle
John Kauffman, Dealer Principal
According to the National Highway Traffic Safety Administration (NHTSA), each year approximately 11,000 car crashes are caused by tire failure. Of those crashes, 9% were the result of what the NHTSA calls "pre-crash conditions" and among those qualifiers are improper tire pressure, low tread depth, and pre-existing tire damage.
30510 tires scanned in 90 days
Worn tires 8549
Sidewall damage 3051
>5 years old tires 1151
>7 years old tires 451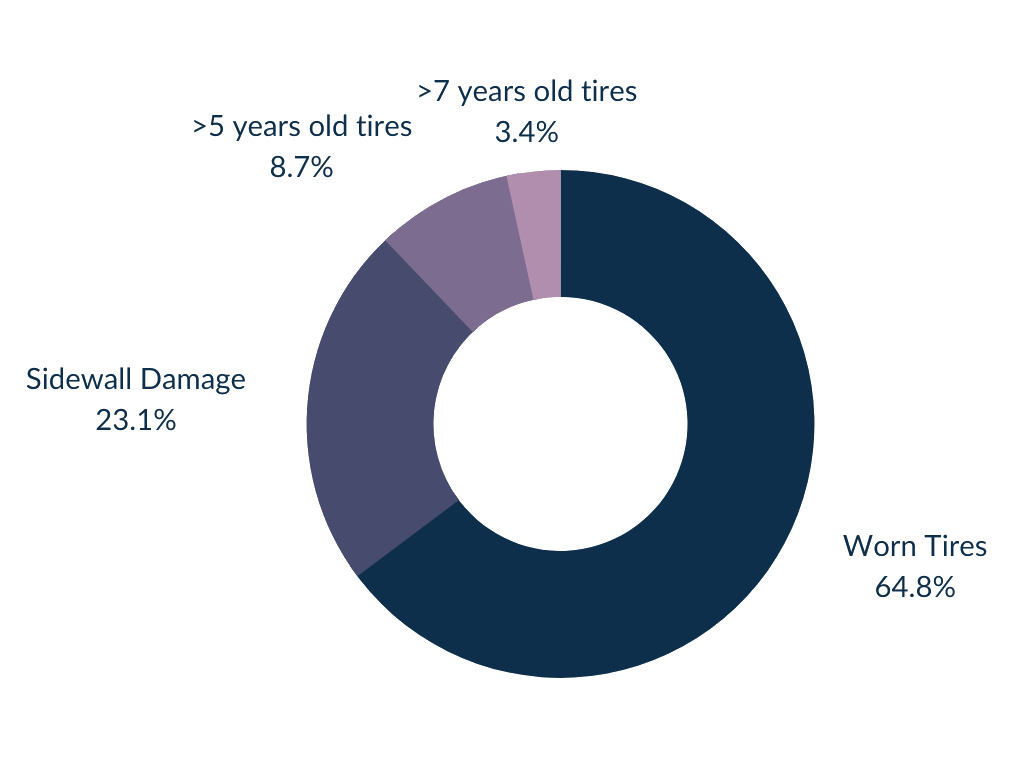 At a dealership such as Audi New Rochelle, which completes thousands of vehicle scans a month, the ability to show customers easy-to-understand tire condition reports is groundbreaking. With over 7,000 vehicle scans completed at the New Rochelle location in the first three months of 2022, 30,510 individual tires were scanned. Of those 30,510 tires, 28% were found to have overly worn tread and over 10% had damage or a dangerously low tread depth.
"A transaction involving a certified pre-owned vehicle where the customer was unsure about the certification of the vehicle. We passed the vehicle through the UVeye inspection machines and were able to show the customer that the tires were up to date. We were also able to demonstrate the vehicle was able to pass the certified pre-owned criteria including a 301-point inspection process."
Audi New Rochelle
Edgar Gonzalez, Brand Specialist
By not only detecting potentially dangerous tire issues but also having the ability to show customers a clear and concise condition report with detailed visuals, dealerships build trust and good rapport. Education and presentation are paramount, especially when it comes to a nuanced subject like tire health and condition. Above all, customer safety should be the top priority, and technology like the UVeye Artemis helps dealerships like Audi New Rochelle maintain that status.
By adopting UVeye technology, Audi New Rochelle is positioning itself as a leader in the automotive retail space. Scanning vehicles as they come through the service bay doors, regardless of the appointment, increases the chances of detecting and alerting service consultants of tire damages. As a result, accidents stemming from tire issues can be greatly reduced and help lower the number of crashes each year.